Good Reads Summary
This novel marks the first giant step in a momentous fantasy journey orchestrated by Cinda Williams Chima, the author of the popular Warrior Heir series. Its two chief protagonists are ex-thief Han Alister, an impoverished commoner, and Raisa ana'Marianna, the headstrong Princess Heir of the Fells.
The Demon King
brings them together, creating part of a volatile mix of action, magic, and danger. Empathetic characters; wizardly attacks.
My Thoughts
I had theories about who was who and who was whom to others. All those theories? Blown to bits. Me, now? Super fangirl mode which is quite surprising given that the first time I tried to get into DEMON KING nothing clicked. In fact, the first time around I only got to chapter three because things were... confusing:
So what's got me all excited? Apparently, had I waited it out and read past Mycah and Raisa, I'd have gotten to the parts where Han played a bigger role. So, I suppose my excitement is all on account of
Han...
except ALL the characters were interesting:
There's Dancer whom I worried over. Was he burned too like Dreadnought in Native Star?
Then, RAISA. I didn't think I could like such a princess-y character. Frankly, my feelings for her went from positive then negative then back. She was so spoiled and bratty at first, but I couldn't fault her. At least later on, I discovered that she was not completely oblivious to goings on around her, or iof she was.. at least she did something about it. So she's not as spoiled as she seemed at first. I hated that she was prissy and flirty and stuff... but later.. later, she was awesome! That someone says she sees the best in people had me gritting my teeth. Because IMO, she did not. She was just blind... like her mother! But could I blame the princess? could I blame the Queen for acting the way they did? Then AMON, goodness me! My second favorite character is tragic and strong and *sigh* (I am in fan girl mode!)
Now, HAN! Oh My Gosh.. I think I have a new book crush in him. And it's not that HAN is perfect. He is so far from being that; he is willful, sometimes obtuse, sometimes crude and a lot of the times angry. But could I fault him those things? Especially since there were moments that he shined: He is a good brother. He's trying to be a good son, and he most definitely is a loyal friend.
As to the story itself: there was a rough start (for me) that had me trying my darndest to go with the flow. THANKFULLY, that middle of the book collision (when all the players "meet" each other?) was simply awesome in an
"Uh-oh"
kind of way. I could almost hear Homer go, 'Dope!" for what Han was doing.
The biggest thing that I have to complain about is that no one was doing anything. I wonder why no one was had acted sooner. I mean, it was rather obvious where things were headed, (Bayar just sounded too ambitious.) So, why did others allow things to progress as far as they did?
That said... me, on
EXILED QUEEN
?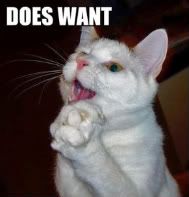 4/5