Good Reads Summary
Han Alister thought he had already lost everyone he loved. But when he finds his friend Rebecca Morley near death in the Spirit Mountains, Han knows that nothing matters more than saving her. The costs of his efforts are steep, but nothing can prepare him for what he soon discovers: the beautiful, mysterious girl he knew as Rebecca is none other than Raisa ana'Marianna, heir to the Queendom of the Fells. Han is hurt and betrayed. He knows he has no future with a blueblood. And, as far as he's concerned, the princess's family killed his own mother and sister. But if Han is to fulfill his end of an old bargain, he must do everything in his power to see Raisa crowned queen.

Meanwhile, some people will stop at nothing to prevent Raisa from ascending. With each attempt on her life, she wonders how long it will be before her enemies succeed. Her heart tells her that the thief-turned-wizard Han Alister can be trusted. She wants to believe it—he's saved her life more than once. But with danger coming at her from every direction, Raisa can only rely on her wits and her iron-hard will to survive—and even that might not be enough.

The Gray Wolf Throne is an epic tale of fierce loyalty, unbearable sacrifice, and the heartless hand of fate.
My Thoughts
I enjoyed THE GRAY WOLF THRONE:
Raisa's life has gotten a tad more complicated. And now, I can think of the Queen Mother and not shake my head in confusion and disappointment, because Raisa finds herself in much the same situation~ making similar deals and offering similar solutions. I just wish somebody had spoken up earlier, maybe in that way none of their troubles would have come to be.
The characters are still awesome:
I still love Amon and I still feel bad about his situation... HOWEVER, I'm satisfied that the back and forth between him and Raisa has been more or less settled. That aside, it's Han who needs to be considered now. I shifted from "I hope they end up together" to "what do they see in each other" in this book. And then there were all the others come sniffing at her: I do not trust Nightwalker.. at all. Then, there's Micah who confused me!
Raisa had some hard things to choose and this made more difficult by the men in her life. The first book had me sad for her and her Captain. The second book had me cheering her on with the street lord. This book had me frustrated and confused with Han and Bayar. Speak of the Bayar's, I had a hard time figuring out what they had planned. Micah with his obligations and interests seem contradictory, making him an even more interesting player~ he is not a straightforward baddie.
In fact,
none of the characters are straightforward
Take Cat who starts out as of as thief turns into a backstabber and here become something else completely. BUT I think that's what I love about GREY WOLF THRONE, everyone manages to become someone else!
And while I think this third installment would have been a good place end the story, I have got to ask when does the next one come out?
4/5
And just so this review ties in with the ones that I did for books one and two of this series, well, here goes: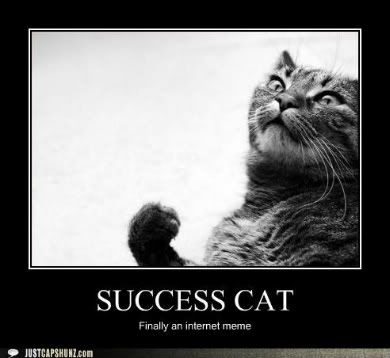 ;)