Good Reads Summary
At seven minutes past midnight, thirteen-year-old Conor wakes to find a monster outside his bedroom window. But it isn't the monster Conor's been expecting – he's been expecting the one from his nightmare, the nightmare he's had nearly every night since his mother started her treatments. The monster in his backyard is different. It's ancient. And wild. And it wants something from Conor. Something terrible and dangerous. It wants the truth. From the final idea of award-winning author Siobhan Dowd – whose premature death from cancer prevented her from writing it herself – Patrick Ness has spun a haunting and darkly funny novel of mischief, loss, and monsters both real and imagined.
My Thoughts
Stories are wild creatures, the monster said.
When you let them loose, who knows what havoc they might wreak?
Here's the reason Patrick Ness is one of my favorite writers: his stories are never run of the mill. And what is
A Monster Calls
exactly? It looks like a horror novel, doesn't it? Even the title reads like one, right? And I suppose it is... given what Connor is going through, but there are lessons learned here. Couple that with illustrations that grabbed me... Well, that I love this book is a teensy understatement.
Collin is a boy similar to Todd in Chaos Walking, but boy did he need a hug! He is one with too big a responsibility on him; a boy growing up to fast. And by the end of his story, I was a wreck! I got so involved and invested in wanting to see him be
OK
. I
felt
for Connor.
And, book art <3! (Have I mentioned the dark, broody, beautiful illustrations?)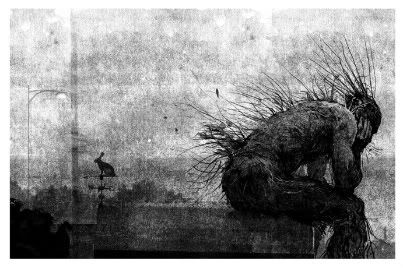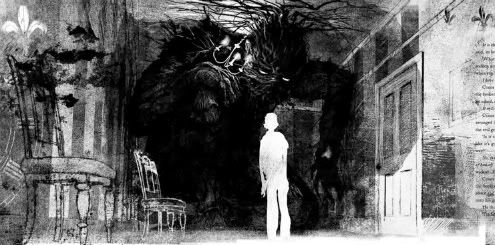 It's unexpectedly sad and has heart; it's left me a wreck.
If there ever were a sad book to read, this would be one.
Read this!
5/5
On my copy: I do so love getting stuff from the post, so here's shout out to Piper: MUCH THANKS! Receiving it was pleasant surprise (as I wasnt expecting it for a couple of more days,) but reading it was an absolute PLEASURE!