Good Reads Summary
Around the world, black handprints are appearing on doorways, scorched there by winged strangers who have crept through a slit in the sky.

In a dark and dusty shop, a devil's supply of human teeth grown dangerously low.

And in the tangled lanes of Prague, a young art student is about to be caught up in a brutal otherwordly war.

Meet Karou. She fills her sketchbooks with monsters that may or may not be real; she's prone to disappearing on mysterious "errands"; she speaks many languages--not all of them human; and her bright blue hair actually grows out of her head that color. Who is she? That is the question that haunts her, and she's about to find out.

When one of the strangers--beautiful, haunted Akiva--fixes his fire-colored eyes on her in an alley in Marrakesh, the result is blood and starlight, secrets unveiled, and a star-crossed love whose roots drink deep of a violent past. But will Karou live to regret learning the truth about herself?
My Thoughts
Who else loves pass the ARC groups? Thanks to a group of lovely ladies on GR, I got to read DoSaB. Halfway through, I already knew I was getting to buy a copy of my own, (which I did.) I devoured it. I'd promised to take it in slowly because rarely if ever do I participate in things tours such as this. I wanted to savor the story, the people especially given the praise it's been given of late. I couldn't help myself though.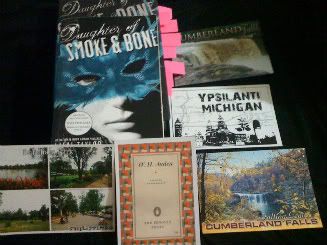 Daughter of Smoke and Bone is a little bit of old and a whole of new. Old? There's nothing new in a story that has people falling head over heels for each other. And there certainly isn't anything new to having obstacles in their way. Yet, you'd be surprised by how… ergh, surprising this became. And it's all in how it's written. Taylor has very specific vision of what Kairou's world is like, and of how people in it behave. And she writes those things beautifully, lyrically even.
The characters, (they be yummy,) are a lot to take in.Akiva is perfection, but very non-human for the same reason. It was his later confusion about what he felt for her that had him becoming better in my assessment. (But if you really think about it, standing over someone while they slept is creepy.) Karou is also too good at everything to be just what she said she was. The catch: she didn't know what she was either! But together? Dear me… who doesn't love it when characters don't act the way you expect them to? Separately, they were both strong, (deadly?)… only together, that's not all there was to them. Love them! Zuzana Another character who's made my reading of this more remarkable. Despite just being the BFF, there's so much more to her because she added so much more to Karou. I loved how they behaved together.
Her world reminds me of the one in Burn Bright: Dark, very specific and different. I love both books for the same reason. In Karou's there were on one had were seraphim, and on the other chimera. But the good, the bad, and that line in between really depend on which side you're looking out from. So, her opinions, his opinions were not meant to mesh but once some of the truth came out, it was her reactions that had me considering the book her even more.
As to the Ending. As I felt with Burn Bright: things ended too soon. And it is this that accounts for the 4/5 instead of 5/5 I'd been leaning to for most of the book.