GoodReads Summary
Insurgent
by
Veronica Roth
One choice can transform you—or it can destroy you. But every choice has consequences, and as unrest surges in the factions all around her, Tris Prior must continue trying to save those she loves—and herself—while grappling with haunting questions of grief and forgiveness, identity and loyalty, politics and love.

Tris's initiation day should have been marked by celebration and victory with her chosen faction; instead, the day ended with unspeakable horrors. War now looms as conflict between the factions and their ideologies grows. And in times of war, sides must be chosen, secrets will emerge, and choices will become even more irrevocable—and even more powerful. Transformed by her own decisions but also by haunting grief and guilt, radical new discoveries, and shifting relationships, Tris must fully embrace her Divergence, even if she does not know what she may lose by doing so.

New York Times bestselling author Veronica Roth's much-anticipated second book of the dystopian Divergent series is another intoxicating thrill ride of a story, rich with hallmark twists, heartbreaks, romance, and powerful insights about human nature.
My Thoughts
My rating:
4 of 5 stars
This is me eating my words. See, by Divergent's end, I found myself questioning if it was really YA dystopian or just a massively entertaining action packed book. Insurgent has hello whole lot of the latter but manages to touch a bit on the former as well. I saw a little more of what she had to live in as well as how others did. I saw a little more of the nuances of each faction. And boy! Let me say this:
loved!
I'm much satisfied with the direction each bit of this book took.
Tris and Tobias. Tris's conflict in particular had her more vulnerable and of course not wanting to be. Her anguish about what had happened in book 1, what she'd done more or less isolates her from everyone especially Tobias, and that was fine, IMO. Instead of a nice "honey moon period" they'd have been entitled to, these two were continuously at odds… quietly though. Mainly because they each had something to deal with her with her guilt, him with his regrets. It's not easy for either of them, being together in this one, and that was much appreciated. With each their own monsters to face and goals to attain and her's seemingly not quite in sync with his own… well, I I ate it up! This constant tension because of all that was left unspoken… I liked it, a lot..
Then plop them right in the middle of a society that's close to its end. Them facing off with so many people, still trying to figure out who was with whom and whom they could rely on: yet, another thing that added to the tension.
I also enjoyed the more specific look into each faction, how each had their own issues and need to keep to old ways. But the bigger surprise as it seemed to Tris, was how the individuals in each could be, precisely, that they were each were
individuals.
The difference among the factions was never more obvious here, but it was also such within each faction.
And with that end? Well, consider my mind blown. I've but once pulled out this Barney gif, but hey… if it fits, it fits: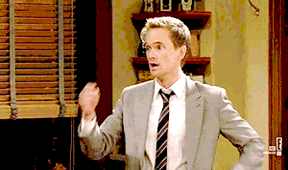 4.5.5
******
this needs repeating:

i am fan girl...
hear me squeee!

awesome sequel... 14 hours of this was worth it!
View all my reviews