Good Reads Summary
The Brokenhearted
by
Amelia Kahaney
A teenage girl is transformed into a reluctant superhero and must balance her old life with the dark secret of who she has become.

Prima ballerina Anthem Fleet is closely guarded by her parents in their penthouse apartment. But when she meets the handsome Gavin at a party on the wrong side of town, she is immediately drawn into his dangerous world. Then, in a tragic accident, Anthem falls to her death. She awakes in an underground lab, with a bionic heart ticking in her chest. As she navigates her new life, she uncovers the sinister truth behind those she trusted the most, and the chilling secret of her family lineage…and her duty to uphold it.

The Dark Knight meets Cinder in this gripping and cinematic story of heartbreak and revenge. From Alloy Entertainment, this inventive new superhero story is sure to captivate any reader.(less)
My Thoughts
My rating:
1 of 5 stars
One would think Batman meets ballet something different.
One would be wrong.
Try Googling Batman, ballet, dance or any combination thereof; you'd be surprised how not-quite original the concept of this book was. I mean, consider: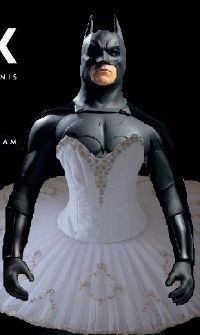 As is usual for me, I didn't bother with the blurb and dove straight in, so by the first chapter, it was apparent that
someone
had been heavily influenced by a very particular thing. I thought it cool at first BROKENHEARTED giving off the same vibes as Gotham City and an MC leading a privileged life but heading toward some darker goings on.
But you see with each page, it became more and more apparent that this book was trying to be something it wasn't…
trying too hard
but not pulling it off. There are all these parallels, when in fact something else that's being developed. Look, I'm mini Bruce, and look I live in a Gotham feeling city with it's crime a crooked cops and whatever. But wait, I've also a beau, a bestie and a mysterious dude fellow I kind sort like. There's all that effort to make it feel like Dark Knight, but you really have to put aside the (obvious) parallels, because this felt like a poor imitation of that. Here's what I disliked (in an off the top of my head fashion, random fashion because I'm not quite sure where to begin):
First, is she a hero in the making? Not quite. Her type's more of the kid falling in love time and time again them doing some pretty dumb stuff because of the same. More like kid in the wrong place/time variety; things happen to her or around her and not necessarily because of her. The introduction had me thinking dark moments of revenge in a not so good place. You know, Gotham City, Bruce Wayne? Only here it's Bedlam and this is Anthem. So,
yeah…
you could say bits of those are present, but not mainly those. The lot of this was her being in love, then crying, then by some convenient external source getting information and then there being something that would happen with her around.
Second, there's a randomness to the goings on that's not quite pulled together by the end. Nothing gelled is what I mean. A couple of things are introduced but never full explored. A humming bird heart. A mad scientist in hiding. And a fighter (?) turned puppy dog in love (the same fact so obvious to everyone, save the heroine of course.) Then allusions to THE HOPE. A city in tatters. Plus, the MC's own personal history as replacement kid. Throw in the golden boy and a bestie, both of who are not quite what you think. Put all that together (if you can) and you get this.
Most everything felt random. The main thing made clear is that she's in love and does everything because of the same. Then everything that happened because of that made it painfully obvious how little thought she gave to whatever she was doing. I just wish the kid could see what was what early on. With the numerous hints dropped about who/what/why, the ending(s) was no big surprise. Now, what was surprising was why the lead was surprised at all.
1.5/5
Thank you, E!
View all my reviews